2022 Audi E-Tron At Audi City Ottawa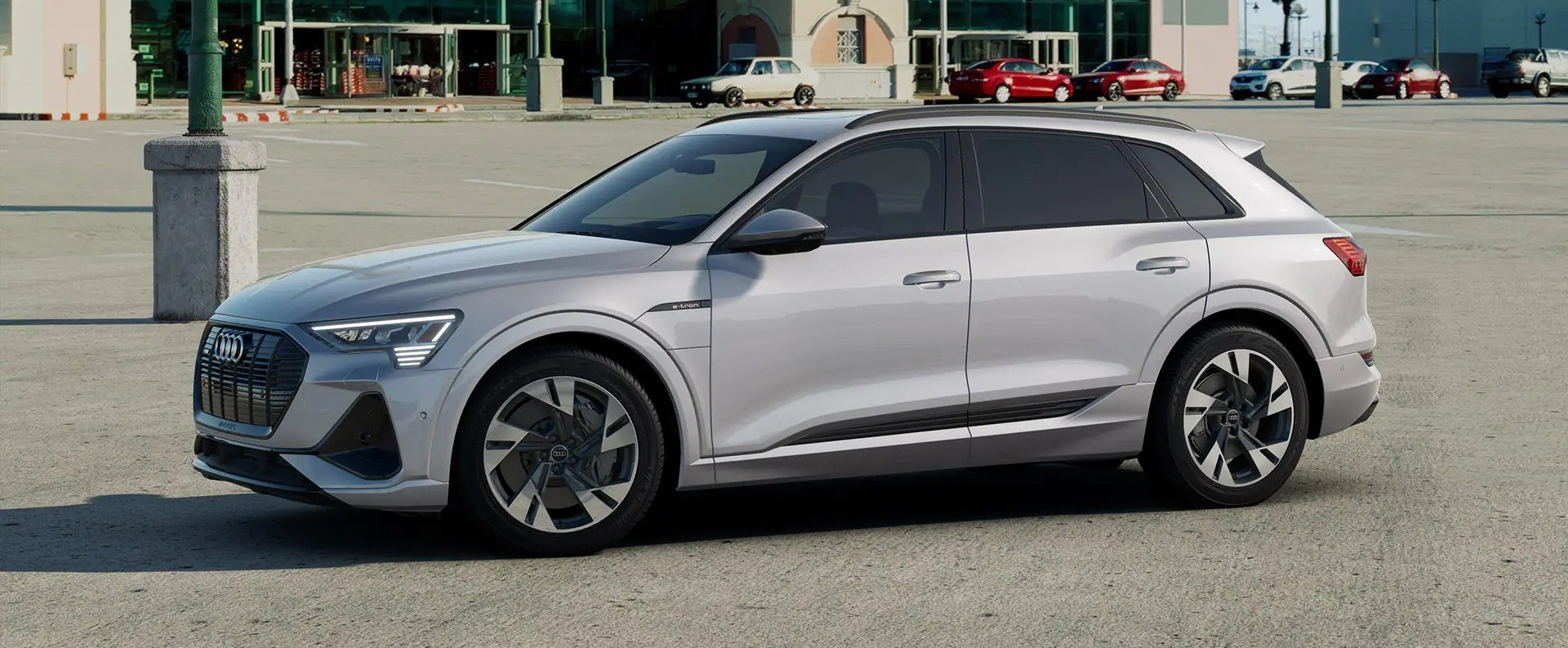 The crossover SUV market is already among the most competitive in the global automotive industry. In the second decade of the 21st Century, electrified platforms are gaining prominence within the class, making things even more difficult for new vehicle buyers. Audi City Ottawa customers looking for a high-performing electric crossover SUV that is also as adaptable as anything on the market should be asking about the 2022 Audi e-tron. The Audi e-tron is entering its third year of production in 2022 with a new trim grade and a more powerful variant, featuring three electric motors. Follow along with us while we examine this exciting vehicle.
Exterior & Interior Design
Aerodynamic Exterior Design
The 2022 Audi e-tron was designed from the ground up to be as efficient as possible to take full advantage of its electric powertrain. Engineers and designers gave the exterior of the 2022 e-tron an outline that will slice through the air with its low-drag profile, which also carries the athletic aesthetic the automaker has made one of its hallmarks.
Functional Grille Elements
On most vehicles, the grille on a vehicle's nose is little more than a place for the manufacturer to place its logo. The e-tron grill features louvres that open and close to meet the SUV's needs at the moment. When the louvres are open, the passing air will dissipate heat, and when they're closed the air is redirected to decrease drag.
Passenger Comfort & Cargo Space
Technology plays an important role in almost every aspect of the 2022 Audi e-tron. However, it still needs to function as a crossover SUV. That means having an interior that is comfortable for its five passengers and can carry all of the gear those people are going to bring with them. Each available version of the 2022 e-tron will feature plenty of room for each passenger while also swaddling them with some of the most refined upholstery materials in its segment.
The 2022 e-tron deftly straddles the line between small crossover SUV and wagon, giving owners a lot of cargo space to work with. When people are sitting in the backseat, as much as 807 litres (28.5 cu.-ft.) of cargo volume can be used. Properly stowing the rear seats will nearly double that volume to 1,507 litres (56.4 cu.-ft.).
High-Performance Platform
Like the rest of the Audi e-tron lineup, the 2022 Audi e-tron is not equipped with a gasoline engine. Instead, a pair of electric motors are attached to either axle to drive the vehicle. This iteration of the Audi electric powertrain technology will make up to 355 horsepower and 414 pound-feet of torque. Drivers looking to get a performance boost from the electric motors can engage boost mode to get up to 402 horsepower and 490 pound-feet of torque.
Adaptable Handline Profile
There is no telling what could be happening around the next corner, but the 2022 Audi e-tron will be ready for it. First, the widely available air suspension system makes subtle and automatic adjustments to improve handling. Additionally, every 2022 Audi e-tron is equipped with all-wheel drive, allowing power to be delivered to an individual wheel that has lost traction.
Audi Virtual Cockpit
A cutting-edge vehicle requires cutting-edge technology. The available Audi virtual cockpit replaces traditional analog gauges for a customizable, vibrant colour screen that can show drivers a wealth of information, including navigation maps, turn-by-turn directions and, of course, speed.
Audi Infotainment System
The Audi infotainment system is as easy to use as the smartphone in your pocket. Drivers will be able to control the bulk of the vehicle's multimedia functions (radio, device integration, etc.) via a 10.1-inch interactive display with haptic feedback. Below that touchscreen is another that manages the 2022 e-tron's climate system and features handwriting recognition.
Premium Sound System
The available premium Bang & Olufsen sound system in the 2022 Audi e-tron will let drivers and passengers feel like they're at a concert while they're on their way to a concert. Three-dimensional sound is created by strategically placing speakers throughout the vehicle's passenger cabin.
Virtual Camera System
The 2022 Audi e-tron is surrounded by a wide array of cameras and sensors. Drivers can keep an eye on the area around the vehicle by using a composite image from the Virtual 360 camera system. People can look at the different available views by swiping left or right on the vehicle's main touchscreen.
Adaptive Cruise Control
Nobody likes being stuck in heavy traffic. The constant stop-and-go driving can be really tough on the vehicle and on the driver. However, the Audi adaptive cruise control with Traffic Jam assist system will help those behind the wheel of the 2022 e-tron better manage this common scenario.
Audi Pre Sense
Most people are surprised how long it takes for people to react to something. The Audi Pre Sense scans the area ahead of the 2022 Audi e-tron, constantly looking for things that shouldn't be there. If it detects a potential problem, it will warn the driver to act. Also, the system can automatically apply the brakes if necessary.
Audi City Ottawa customers will almost surely be impressed by the kind of standard equipment that comes with the 2022 Audi e-tron. However, no two buyers are the same and many of them have specific needs that aren't always covered by the SUV's trim grades. Before you finish working with one of our product experts, take a look at the available accessories you can add to your 2022 e-tron before you leave the showroom. Customers will be able to choose among five categories:
Wheels & Tires
Sport & Design
Transport
Communications
Comfort & Protection
Parts & Accessories Specials
Comparable Models
The 2022 Audi e-tron is in good company among the rest of the automaker's electric vehicle lineup. Our manufacturing partner has done an excellent job of diversifying the e-tron roster. People interested in the 2022 e-tron are going to value its slim footprint on the road, especially when compared to larger and heavier platforms like the Ford Mustang Mach-E and Cadillac Lyric. The e-tron's dimensions will allow it to take advantage of tight parking spaces that might not be accessible by the rest of the Audi electric SUV's rivals.
Ford Mustang Mach-E
Audi Q4 e-tron
Cadillac Lyric
Audi e-tron Sportback
What's New on the 2022 Audi Q4 e-tron?
In automotive terms, the 2022 Audi e-tron is still a pretty new model. That means that our manufacturing partner hasn't made a lot of changes to it for the current model year. Most of the changes have happened behind the scenes, with some features being shuffled around for greater availability.

e-tron Progressiv
Starting at $86,900*
Details:
Available Features:
• 20-inch contrast gray wheels
•
Orange brake calipers
• S-line Black package
• Trailer hitch
View 2022 Audi Inventory

e-tron Technik
Starting at $95,300*
Details:
Available Features:
• Four wheel desgins
• Black optics package
• Luxury package
• Night vision assistant
View 2022 Audi Inventory
Tech-savvy, 21st century buyers have a different set of needs than previous generations of Audi customers. Audi City Ottawa has tailored its business practices and operations to meet those needs. One of the ways we are different is that we use some of the latest technology available to help people new to the Audi brand understand what they're getting into. Make an appointment with one of our product experts, today.
Let us help you find your new car!
* Indicates a required field